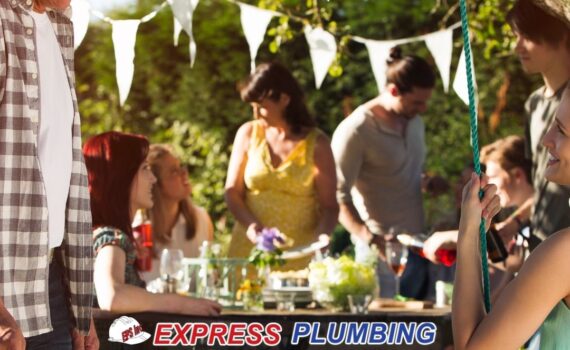 Summertime is one of the favorite times of the year for most people. Kids can get outside and enjoy the weather and adults can start to think about vacation time. But one thing that's often overlooked is summertime plumbing. The summertime means more gatherings and outdoor activities, which can lead to more strain on your plumbing system. While your plumbing shouldn't hinder your fun this summer, you should keep a few tips in mind to keep your system running smoothly.
1. Give Your Garbage Disposal a Break
Many fruits and veggies are at their ripest during the summer, so indulging (or overindulging) is only natural. However, you shouldn't let these foods destroy your garbage disposal. Make sure you avoid putting banana peels, melon rinds, corn husks, or other hardy leftovers in the disposal to avoid any damage.
2. Inspect for Leaks Around the House
Long winters and even slightly frigid summers can wreak havoc on your plumbing and cause leaks. However, you may not notice them during the spring or early summer, especially smaller ones.
Make sure to inspect the following areas:
Outdoor spigots
Pool area
Showerheads
Pipes underneath the bathroom or kitchen sinks
Water heater and water softener
Basement or crawlspace water pipes
Toilets (you can do this by putting food coloring in the tank and flushing it)
3. Find Your Main Water Shut-off Valve
If you aren't sure how to shut off your water, now is the time. A clogged toilet, burst pipe, or other issues can severely damage your home if you don't know where to find this valve.
This valve is either a wheel with spokes (often painted red) or a valve that turns at a 90-degree angle to open or close the main water line. Hopefully, you never need to use it, but you can at least know where it is in case of an emergency.
4. Test the Sump Pump
Summer thunderstorms can put your sump pump to the test. For your basement to stay dry, you need to make sure your sump pump is in tip-top condition and in proper working order.
To test your sump pump, go to the sump and dump a bucket of water inside. Make sure it's turned on. With the water inside the sump pit, your pump should turn on automatically. If it doesn't or if it's malfunctioning, you may need to replace it sooner rather than later.
5. Clean the Gutters
Gutter cleaning isn't always associated with summer plumbing issues. However, your gutters need to be clean and clear to work correctly, especially if you haven't cleaned them recently. Grab a ladder, remove all the debris, and you shouldn't have to worry about any leaks in your home or basement as a result of clogged gutters.
Don't Have Time? Call Your Bay Area Plumber
Even some of the easiest plumbing jobs aren't always possible if you're busy or on vacation. So if you come across a plumbing situation that you can't handle, give us a call.
Experience combined with the most modern equipment and methods used in the industry, we can take care of a minor or major plumbing situation anywhere in the Bay Area quickly.  Our goal is to take care of your home or business so you can enjoy the summertime without worrying about plumbing.