We're Expert Bay Area Sewer Contractors in San Mateo
Ready to convert?  Our Bay Area plumbers are experts in septic to sewer conversion projects.  We're the expert sewer contractors in the Bay Area.  We have the most advanced equipment to handle your septic to sewer line conversion quickly using our trenchless technology and extensive plumbing experience of over 30 years.
Whether it's a sewer line repair or sewer line installation, both require the right expertise and equipment to get the job done efficiently saving you time and money.  If you call any other local plumber, they'll likely call us to take on this type of project, so give us a call and cut out the middle man.
Our professional plumbers are experts with the most advanced equipment available in the industry allowing us to provide you with trenchless sewer line replacement.  This type of technology minimizes the time and cost to get your sewer line replaced.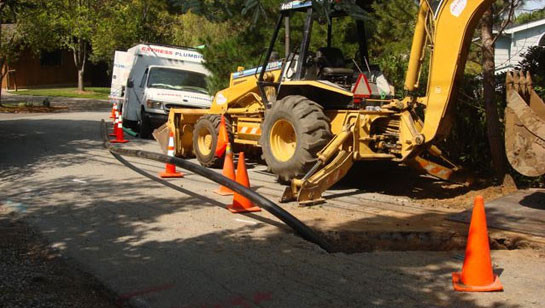 Benefits of Septic to Sewer Line Conversion
Less Maintenance
No more pumping and septic repairs or inspection.  Sewer systems are maintained by the utility company.
Home & Business Value
The value of your home or business is worth more with a sewer system.  Buyers tend to stay away from homes and business with septic systems due to the higher costs of maintenance and repairs.
Cost & Savings
If your septic system has issues, it's less expensive to perform a septic to sewer conversion than it would be to replace your septic system without the additional costs of ongoing maintenance.
Many plumbers find converting from septic to sewer a complication, especially when a homeowner has built a patio, deck, retaining wall, or other obstacles that make connecting into the main line difficult.
Other Bay Area plumbers rely on our expertise and equipment to get these difficult jobs done because we have the manpower and equipment to make it happen.
Our plumbers specialize in advanced plumbing techniques.  Whether it's sewer line inspection, repairs, replacements, installation of a new sewer line, or septic to sewer conversions, we're here to make sure it happens quickly, without the mess and the high costs.
We utilize trenchless drilling technology with every septic to sewer conversion we do around the Bay Area.
If you're ready to get this done, give us a call and we'll provide you with an exact timeline and cost.  There are no hidden charges, and our work is always guaranteed to your highest satisfaction.  Call us (650) 343-9477 to get an exact cost of completing your septic to sewer conversion.