EPS Inc. dba Express Plumbing specializes in trenchless new construction, trenchless line repair, and new installations.   Our experience in trenchless drilling has been relied upon by residential, commercial, and municipal clients throughout the Bay Area.
About EPS Inc.
EPS Inc. Engineering Perfect System is an incorporated civil engineering company that opened for business in 1992 specifically to address the needs of owners and engineers faced with difficult and complex light and heavy engineering projects.
We work closely with design engineers and owners on jobs where the risk is high, the timing is critical, and the success and safety of the work depend primarily on pre-planning and pre-engineering.
Clients recognize us as a dedicated group of project managers, superintendents, engineers, and craftsmen focused on helping them complete jobs in a cost effective manner. Our goal is this: to have satisfied clients recommend us as the best civil engineering company in Northern California.

Trenchless Construction
The trenchless capabilities, allows us to tunnel through to the other side without disrupting the surface.  This advanced technique minimizes the damage to the top soil, and expedites the process of any new construction installation.
Our trenchless services allow us to install lines and conduit under roads, railroads, ponds, lakes, streams, and buildings without impact to the surface above.  This advanced technology facilitates the installation of pipes that go deeper and longer than the traditional method.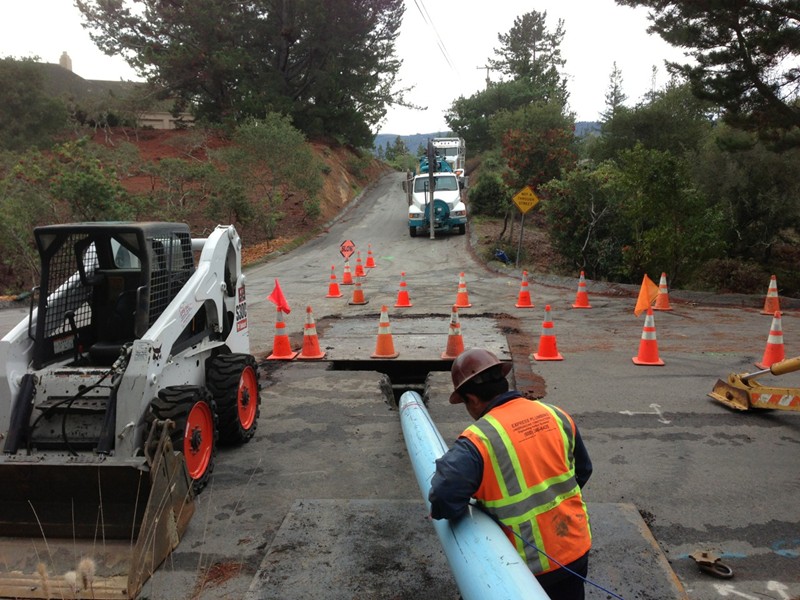 Trenchless Plumbing
They call us the trenchless sewer repair crew! We rely on this advanced plumbing technique to repair and replace sewer lines all over the Bay Area among many other plumbing repairs and installations that require minimal disruption.
Trenchless Drilling
Directional drilling and horizontal boring, along with pipe reaming, and pipe ramming capabilities are a few of the trenchless drilling projects we've been called to perform in the Bay Area.
Benefits
Less Traffic Disruption

Lower Cost when less damage is done to the surface

Efficiency in completing the project means it's done quicker

Overall, choosing trenchless drilling, repair or installation is better for the environment.
Why Choose Us as Your Bay Area Trenchless Contractor?
EPS Inc. dba Express Plumbing is a Bay Area trenchless contractor that's leading the way in providing our clients from every sector the ability to save cost and time when it comes to any type of repair, installation, or new construction.
Since 1989, Nick Bechwati our owner has partnered with residents, business owners, and municipal leaders to innovate new techniques that are better for our environment, and our community.  From engineering to plumbing and everything in between, he is the go to contractor of choice.
If you're looking for a plumbing or drilling company that understands the urgency of on-time service, advanced techniques and innovations, contact us and rely on our over 30 years of experience in Bay Area trenchless support.