Apartment plumbing issues are quite similar to residential plumbing problems such as backed up toilets, clogged drains and garbage disposals, but plumbing problems in apartments will sometimes affect more than one resident.
In a multi-family resident, a plugged up since can back up other units in the building, therefore it's very important to have an immediate solution and response to minimize problems, costs, and further damage.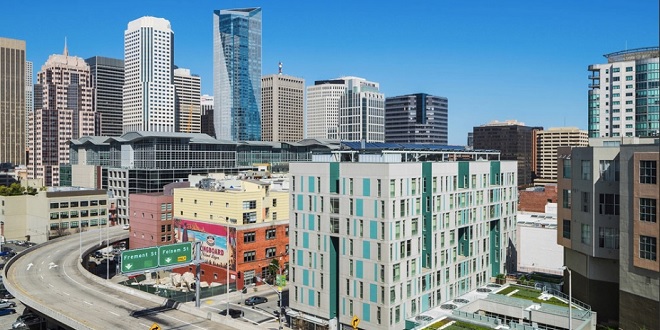 Apartment Sewer Line Break
Plumbing problems in an apartment building such as a sewer line break is often hidden from plain sight.  Apartment owners don't usually notice it until a sewage backup occurs.  
Our Bay Area apartment plumbing specialists use advanced techniques to detect, and resolve sewer line problems quickly.  We are the Bay Area's #1 choice in trenchless sewer projects.
Apartment Plumbing Experience
Plumbing systems in apartment buildings are a bit different when compared to a single family home, having an experienced plumbing contractor is crucial, this will eliminate any unnecessary added costs and minimize the project completion time.
Plumbing Problem Prevention in a Multi-Family Unit
We promote a proactive approach by working closely with apartment managers and providing them with simple tips to minimize plumbing problems, added stress and spending.
A simple clog prevention program may include installing drains screens in the sinks.  This option may not prevent all the debris from ending up in the drain, but it will minimize it.  A simple fix that leads to excellent results.
One of our Bay Area apartment plumbing clients recently removed all the garbage disposals from the units.  While he agrees that a garbage disposal is a convenient option, many residents abuse their use by sending a large quantity of debris down the sink, causing a clog for their unit and others in the building.
Immediate Response to Plumbing in Apartments
No matter how much you try to prevent problems, some may still occur and when they do, an immediate response is a must.  Prolonged leaks that require the water to be shut-off can affect the residents and the added cost for you as an apartment owner.
Our apartment plumbing experts in San Mateo CA are available 24 hours a day, 7 days a week, including weekends and holidays.  We service the entire Bay Area, view a list of our plumbing service areas, and contact us for apartment plumbing services in Atherton, Belmont, Burlingame, Half Moon Bay, Los Altos Hills, Menlo Park, Millbrae, Pacifica, Palo Alto, Portola Valley, Redwood City, San Carlos, San Francisco, San Bruno, Stanford, Woodside, Fremont, Mountain View, Colma, Foster City, Daly City, Brisbane, Union City, Hayward, Newark, San Leandro, Foster City, and all surrounding Bay Area cities.
As the #1 apartment plumbers of choice in the Bay Area since 1989, we understand the urgency of on-time service and have an experienced plumbing crew available when you need us most.