Many of our Bay Area repiping projects involve a water line replacement.  If your water pipe needs repair or you need a new water line installed, call our San Mateo professional plumbing company and you'll get an experienced, licensed plumber to help you quickly.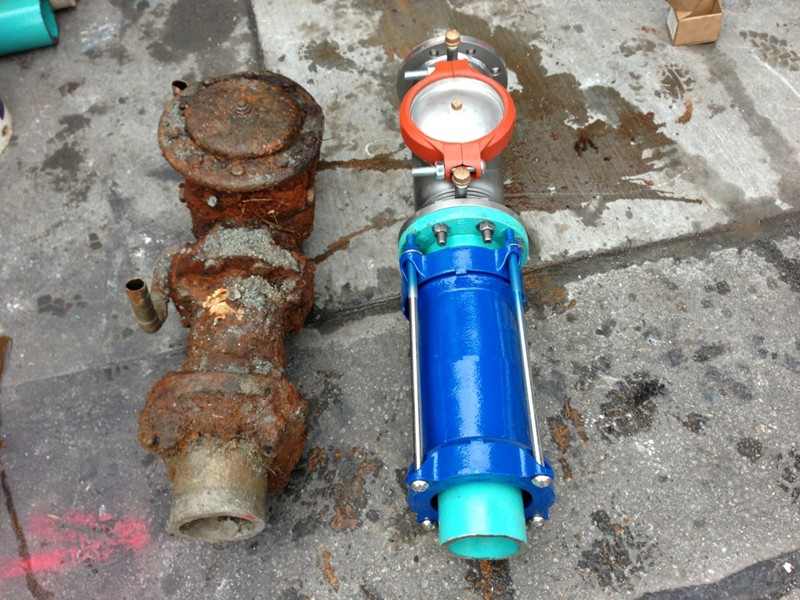 There are many environmental effects that cause a need for pipe replacement (re-piping), this is quickly evident to most homeowners in their low water pressure, or discoloration of the water.
Our Bay Area clients explore the reverse osmosis option when they see discoloration in the water, but the issues requiring a pipe replacement still need to be dealt with.
Signs Of Water Line Problems
Do you experience low water pressure?
Do you see yellow or rusty colored water coming out of the faucet?
Do you get scalded in the shower when someone flushes, uses the sink or turns on the washing machine?
Do you have a slab leek in your home?
Do you have plastic poly plumbing pipes?
Do you have old corroded galvanized pipes?
Is your home old and has leaking copper pipes?
If you answered yes to any of the questions above it may be time to speak to us.  A serious leak can do some damage in your home and if left untreated on your pocket book.  Get our professional plumbers to evaluate the issue quickly and repair the problem as soon as possible.
Partial Line RePiping
Many homeowners find the need to replace certain sections of their water pipes due to leaks and issues that are isolated to a particular area.  We have performed partial water line replacements, but if the issues continue to occur in different areas, the homeowner always realizes that it may be time to consider an entire home re-piping project to eliminate a simple issue from becoming a larger problem.
Whole House RePiping
Unless you're in a new home, chances are likely the pipes in your home have signs of aging.  You may have had to replace sections of the pipes in your home due to leaks.  If you've had to do that a few times, you may want to consider a full home water line replacement.
At first, re-piping the entire home may seem like a more expensive solution than just replacing sections, but the end results is savings because you will finally have a system that is efficient and delivers the amount of water and quality of water your family needs.
We've been serving the Bay Area since 1989, we are a trusted source for residents and business owners all over the Bay Area.  Other plumbers rely on our experience and advanced equipment to complete plumbing projects that require a certain level of expertise, so we want you to feel confident you have the #1 referred and preferred plumbing company in San Mateo on your side.
If you're ready to consider home re-piping, contact us at Express Plumbing, we are your trusted San Mateo Plumbers, and we specialize in advanced techniques and cost effective plumbing solutions for your home or business.