When a sewer backs up creating a spill, it's a nasty job, but someone has to clean up immediately.  Our professional sewage spill clean up services are available even in crawl spaces.  We specialize in "No Dig" trenchless sewer line repair and replacement.  Rely on our professional sewage spill clean-up crew for all your residential and commercial plumbing needs.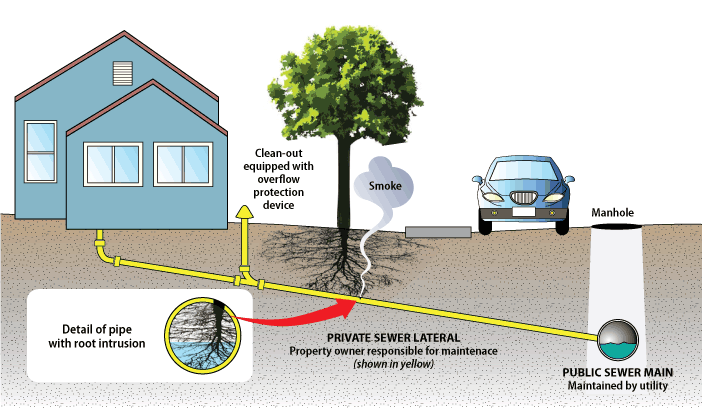 There are specific sewer spill clean-up standards and guidelines to follow in order to insure a proper and thorough job.  We handle all sewage cleanup issues even in the hard to reach crawl spaces.
Cleaning of indoor spills is necessary to protect people, small children, pets, and adults can suffer from the harmful bacteria and viruses found in sewage spills.
What to do when you have a sewage spill emergency?
The clean-up procedure should begin quickly to minimize any exposure and risk.
Keep your children, and pets away from the area
Call our San Mateo emergency sewage spill clean up crew at (650) 343-9477
Keep yourself, the children and your pets away from the spill area until the cleanup is complete.
We are family owned and operated; our first concern is the safety and well-being of your family.  Our emergency spill clean up team has the equipment and experience necessary to insure a thorough cleaning that not only meets but exceeds all standards and guidelines.
After we're done, the investigation begins.  Our goal is to repair the issue and make sure it doesn't happen again.  There are a few common causes we've seen when a sewer line backup happens.
Clogged Sewer
If you have a clog that only happens in one toilet, sink, or tub, it may just be an isolated clogged drain, but if every flush makes your sewer backup in your home, you more than likely have a blocked main sewer line.
Tree Roots in Sewer Pipes
Tree roots tend to find their way into your sewer line, even if you don't have trees there.   Tree roots from a nearby yard can find their way to your sewer line causing a backup.  Our video camera inspection and detection equipment can help confirm this quickly.
Broken or Cracked Sewer Line
Older homes have sewer lines that are made of cast iron or clay piping, due to age they deteriorate and break, our advanced equipment allows us to detect and correct this quickly.
When necessary, our trenchless sewer line replacement services are great in situations like this.  No digging is required, so there's no mess.  The repair is done quickly, saving you time, and money.
If your sewer line is backed up, call (650) 343-9477 for professional sewage spill clean up services.  We are the emergency spill clean-up professionals in San Mateo and all surrounding cities.  Serving the Bay Area since 1987.