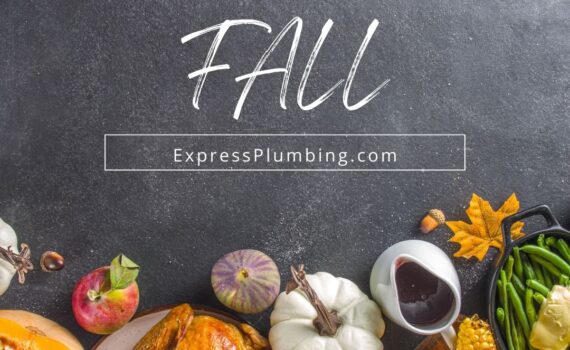 Although Thanksgiving affords you time to reconnect with friends and family and give thanks for the past year, it's also a hectic time that can lead to stress — especially if you're hosting a large gathering or dinner.
However, you can plan for the occasion by getting your kitchen Thanksgiving-ready. From pre-Thanksgiving steps to day-of tips, here are ways to keep your kitchen clean and prepped for all the Turkey Day festivities.
Here are some amazing Thanksgiving holiday tips from our plumbing crew at Express Plumbing in San Mateo.  Residential plumbers everywhere will agree:
Wait To Run the Dishwasher
Obviously, you want to wait until the dishwasher is full before you run it to conserve water. But another reason exists for holding off — problems with the garbage disposal.
Even seasoned homeowners aren't aware that both the garbage disposal and dishwasher drain into your kitchen sink. If you run the garbage disposal while the dishwasher operates, you risk getting food particles and debris into your dishwashing cycle. If you only want to clean the dishes once, make sure that you use your garbage disposal before you turn on the dishwasher.
Keep Junk out of the Garbage Disposal
Speaking of your garbage disposal, a significant household issues and future repairs during and after Thanksgiving lies within this handy appliance. Many people aren't sure what's suitable to go down the drain — leading to clogs, disrepair, and even the need for a replacement.
To err on the side of caution (and potentially save yourself hundreds of dollars on repair or replacement costs), copy this list and put it near the garbage disposal so all your guests know.
Items that should never go in the garbage disposal include:
Bones
Coffee grounds
Eggshells
Grease or oil
Leafy plants
Pasta and rice
Fibrous foods
Pits
Onion layers
Potato peels
Clean the Fridge and Freezer
Your fridge and freezer go into hyperdrive during Thanksgiving — including before and after the big day. If you have extra time, prep both for a heavy workload by:
Cleaning out any old food
Using a household cleaner or a water-vinegar mixture to clean the interior
Removing the drawers and washing them with soap and water so everything is nice and tidy
Opening a tub of baking soda and put it inside to reduce pungent odors
Using the freezer to free up extra space in the fridge
Dispose of Grease Properly
Grease never goes in the drain or garbage disposal, but getting rid of grease properly is also a concern. Grease dumped outside can attract animals or harm your sewer or plumbing systems as it absorbs into the soil.
As a result, you should dispose of your grease in a plastic receptacle. Once it hardens, throw it out with the rest of the trash.
Call a Plumber
Your kitchen works overtime during Thanksgiving, as does the rest of the plumbing around your house. If you want to ensure that your toilets, sinks, and showers are ready for houseguests, give Express Plumbing in San Mateo a call.  Our technicians are available 24/7 including holidays and weekends.
With preventive maintenance and a thorough inspection, your plumber ensures everything works correctly. You have enough on your plate already, so don't add trouble unnecessarily. Call a plumber, get your kitchen ready, and focus on the joy of the holiday.  From all of us at Express Plumbing.  Happy Thanksgiving.