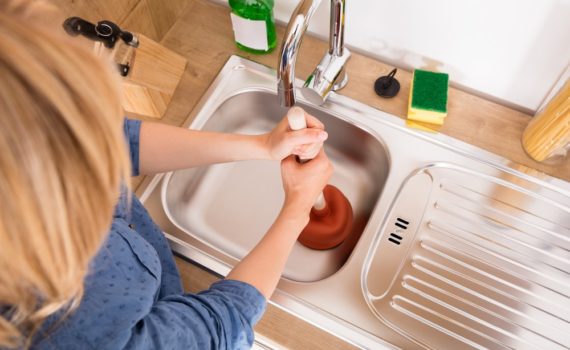 Clogged drains account for the majority of residential plumbing emergencies.  Homeowners and business owners throughout the Bay Area can avoid a clogged drain by following a few maintenance tips on a regular basis.
Prevent a Slow Clogged Drain in the Kitchen
Preventing slow and clogged drains is the first step in avoiding a plumbing emergency.
Cooking Grease, and coffee grounds are two of the major every day items that go down the drain.  Avoid putting them down the drain all together by adding them in an old coffee can and dispose of them in the trash instead of the kitchen sink.
Coffee grounds are also great for plants, if you have a backyard garden, add them to the mulch pile, and watch your flowers bloom.
Clogged Bathroom Drain
Soap scum and toothpaste account for many of the bathroom drains our plumbing technicians see.  It's quite difficult to avoid this but there are other things you can avoid such as hair going down the drain which will help you drains remain clear longer.
Place a screen that will catch the hair before it goes down the drain and create a clogged build up.
There are custom screens specific for your drain available at the local hardware store.  Snap a picture on your phone before going the store, this will help you get an exact fit screen.
Maintaining Drains while Saving the Environment
The EPA says that Americans toss approximately 4.5 pounds of garbage every day.  Avoiding clogged drains by properly maintaining them also includes not putting things down the drain that can hurt our environment.  Medications, flammable liquid, and paint are a few of the items to avoid all together.
Here are the alarming results of pouring these 7 things down the drain.
Our Bay Area residential plumbing experts are available to help 24 hours a day, 7 days a week including holidays and weekends.  As an emergency plumbing company, we enjoy sharing some of the things you can do every day to avoid having to call us in the first place.
If you're following a proper drain maintenance plan but still end up with a clogged drain, give us a call and we'll be happy to serve you anywhere in the Bay Area.