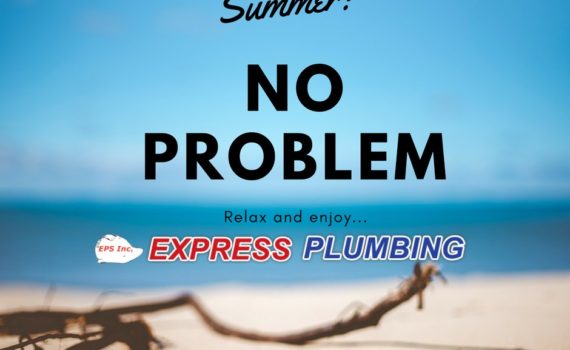 Fun in the sun isn't enjoyable if you're having to deal with summer plumbing problems! While you're getting ready for a trip to the beach, a backyard BBQ and evening parties, if you're a homeowner in the Bay Area, you're never worry free.  There are always issues around the house, and plumbing issues are one of them.  Let's get you prepared.
Most Common Summer Plumbing Issues
Clogged Toilets & Drains
With swimming comes more showers, with kids out of school, the toilets will be working double time.  Talk with your kids and explain proper use.  If you've got teenagers discuss the things they should NEVER put down the toilet to avoid clogs.  For the shower drains, it may be a good time to invest in a drain plug to catch all the hair.  Keep a plunger handy, just in case they do get clogged, and give us a call if you ever need our residential plumbers anywhere in the Bay Area.
Leaks in Washing Machine Hoses
Swimming, sports, showers, only mean that your washing machine will be working overtime these summers months, to prevent washing machine hose leaks, check them often and replace them before they begin leaking in order to avoid a leak in the house.  Plumbing issues can come from anywhere, you can't stop them all, but with a little attention to detail, one can avoid a few plumbing problems from becoming bigger disasters.
Sewer Line Plumbing Problems
We are the Bay Area underground sewer experts because we get called for sewer repair and sewer replacements on a daily basis, so we know this can happen, and it does!  Whether the roots from trees expanded during the wet winter months and found their way into the sewer line or the collection of residue and hair has finally reached maximum capacity, avoid sewer line problems by not only installing drain plugs in the summer but all year long.
If you have a sewer issue, minimize the repair by hiring our trenchless "no-dig" plumbers.  We have the equipment and expertise to handle any sewer and underground pipe repair without digging.  The process is efficient, minimizes the disruption to the ground above, thus the cost and time to repair is much less.
Summer is meant to be enjoyable, follow these small tips to enjoy the kids being out of school, have outdoor fun without having to deal with plumbing issues that will drain your excitement.
We at EPS Express Pluming enjoy helping our Bay Area community and are called upon by commercial, residential, and municipal clients to provide engineering, plumbing, drilling, and building services when they need it.  We've been serving the San Francisco Bay Area since 1989.  We look forward to helping you when you need us most 24/7 including holidays and weekends.