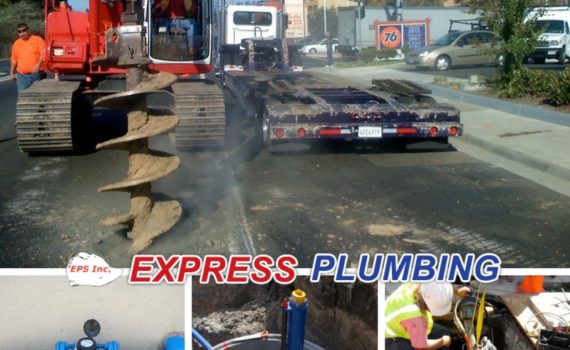 No one ever wants a plumbing emergency, but when it happens, sometimes it involves going into the pipes underground.  Deciding to hire a trenchless plumbing company instead of a traditional plumber is extremely important and here's why.
A Trenchless Plumbing Company Doesn't Dig!
This is possibly one of the most important reasons, but the one that will get your attention the most is cost and time.  If a pipe underground needs to be repaired or replaced, there's no other way to get around it but dig up a whole mess, unless trenchless technology is used for the pipe replacement.
Digging up the surrounding area will require additional costly repairs once the pipe is replaced.  Let's not mention the plants or trees if they happen to be above the dug up area.
A trenchless plumbing contractor will use advanced technology to get to the underground pipe through one point of entry.  EPS Express Plumbing in San Mateo is a trenchless plumbing company that specializes in underground pipes.  From new installations, to replacements using pipe reaming, installations of underground utilities and everything in between.  The process is simple, effective, and quick.
Watch this video, where our commercial plumbing crew performed a sewer rehab in Daly City CA.  Using the trenchless pipe reaming process to install 1700 feet of 18″ HDPE pipe through an existing old 12″ vitrify clay pipe.  Can you imagine if the 1700 feet of road had to be dug up to get the job done?
Sure this project is huge when compared to the front or backyard, but the same concept applies.  Trenchless sewer repair and replacement happens everywhere, whether you're a resident in the Bay Area or own a business.  Our team of expert plumbers is here to assist you in choosing the most effective method to repair, replace, or install underground pipe.
Contact Nick Bechwati, our hands-on owner for any upcoming project, no matter how big or small.  Companies, homeowners, businesses, and municipalities rely on our expertise, unwavering commitment to excellence, combined with experience and the best equipment available today.  If you have a plumbing problem, installation, or repair.  We've been serving the Bay Area since 1989 and look forward to serving you.
We provide trenchless plumbing services in the Bay Area including surrounding areas such as  Atherton, Belmont, Burlingame, Half Moon Bay, Los Altos Hills, Menlo Park, Millbrae, Pacifica, Palo Alto, Portola Valley, Redwood City, San Carlos, San Francisco, San Bruno, Stanford, Woodside, Fremont, Mountain View, Colma, Foster City, Daly City, Brisbane, Union City, Hayward, Newark, San Leandro, Foster City