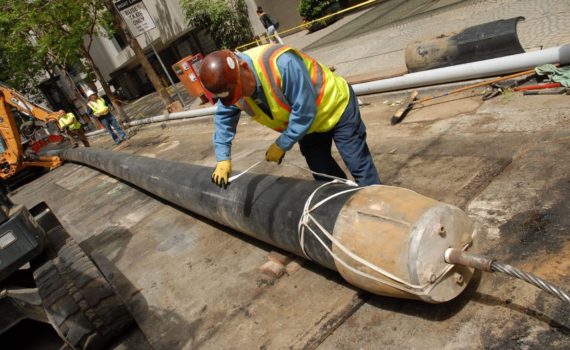 EPS Inc. dba Express Plumbing in San Mateo is called upon for trenchless sewer replacement due to our advanced equipment, and technical expertise.  Whether it's underground construction, new construction, residential plumbing, or commercial plumbing repairs.  Homeowners, business owners, and cities consider us the contractor of choice in the Bay Area.
Since 1989 we've partnered with the City of San Francisco on many projects and here are some highlights from the recent May 2016 sewer upgrade project located at the busy Embarcadero Center.
The city of San Francisco is continuously upgrading its sewer system and underground utilities throughout the area, our company partners with the city, engineering firms, and various parties involved to facilitate a smooth transition and a successful outcome for our community.
We were contracted to perform a trenchless sewer replacement in a very busy area of San Francisco, proper planning, advanced equipment and a team effort made this project not only successful, but also enjoyable.
Among other things, we replaced an existing 20″ clay sewer main with an 18″ HDPE using a custom bursting head in a process called pipe bursting, this and other advanced equipment and techniques allows us to accomplish excellent results efficiently and with quality not only meets but exceeds our clients' expectations.
San Francisco is not the only city we serve, we provide general engineering and plumbing services in the entire Bay Area and take pride in doing so.  It's the community we call our home, and we wanted to especially thank our city for continuing to improve our environment.
---
ENJOY THE PROJECT SNAPSHOTS AND HIGHLIGHTS
We're proud to hold the title of
Contractor of the Year in Silicon Valley
and strive to continue providing our community with the excellence they deserve.
Our company only hires the most qualified and experienced plumbing technicians in the industry and they along with our hands-on owner Nick Bechwati are the reason for our success and the success of our projects.
We value your support in the community and ask you to contact us if you're in need of commercial, residential or municipal engineering or plumbing support.