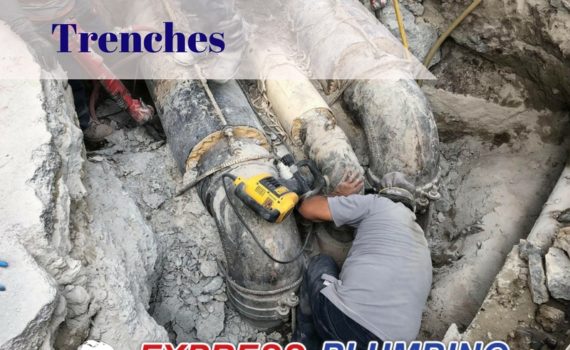 If you own a home or business and you've been receiving a high water bill lately, you'll more than likely have a leak and need a pipe repair or replacement done quickly!
Not taking care of leaks right away will only increase those bills, so there's no time to waste and you'll need a plumber that acts fast. EPS Express Plumbing is a Bay Area pipe repair and replacement expert. We offer solutions that meet budgets and deadlines.
Pipe Repair or Replacement?
First thing we will do is evaluate the situation and provide you with a FREE no obligation estimate. The cost will obviously vary whether it's a repair or a complete replacement.
Unlike other plumbing companies, EPS doesn't have to get to the pipes by digging up your lawn, tearing down the walls, or floors. We simply choose one access point and give you a cost-effective pipe repair or replacement without leaving a mess behind.
If the area is dug up just to locate a pipeline, just imagine the added cost to get it back to normal.
Our pipe repair or replacement services are offered to residential clients, businesses, and municipalities throughout the entire Bay Area. We've been repairing, installing, and connecting pipes since 1989.
Pipe Repair or Replacement Efficiency
We have dedicated equipment and an experienced crew to get the job done quickly. The faster it's done, the less expensive it is for you as the client. Depending on the size of the project, many of which can be done in one or two days.
Check out our recently completed pipe repair project in Daly City, using the trenchless pipe reaming technique on 1700 feet of 18" High Density Polyethylene pipe installed through the existing old 12" vitrify clay pipe.
No matter what size project you need our Bay Area underground pipe repair team for, EPS Express Plumbing is eager and ready to help.
You can always rely on us to provide you with simple, cost effective, and long lasting trenchless pipe repair, and pipe replacement solutions.
EPS Express Plumbing is the #1 referred building, engineering, and plumbing contractor in the Bay Area among homeowners, business owners, builders, and municipalities.
Don't let a small leak turn into a plumbing disaster, contact us quickly. We operate 24 hours a day, 7 days a week including holidays and weekends, and consider ourselves the Bay Area's emergency response team.