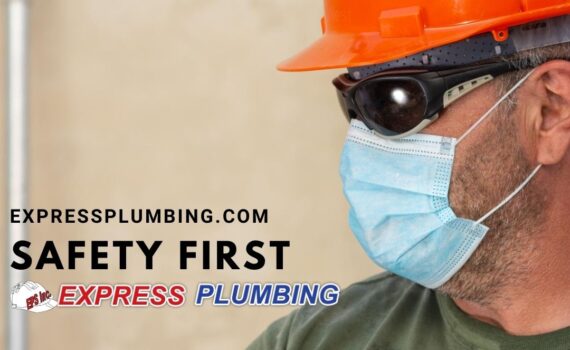 Deemed essential workers by the United States government, plumbers continue to work during the COVID-19 pandemic. However, homeowners in need of plumbing shouldn't put off necessary projects due to the current situation.
With guidelines from the Centers for Disease Control (CDC), our San Mateo plumbing crews are maintaining proper safety protocols, all while getting the job done. If you're apprehensive about hiring a plumber during the pandemic, don't be. Here are the ways our Bay Area plumbers adhere to safety guidelines while they perform their duties.
The COVID-19 Plumbing Scenario
Working in unsavory conditions isn't a foreign concept to plumbers. Whether they're working in a crawlspace of fixing a sewer line, conditions aren't always sanitary. Yet in a COVID-19 world, this particular aspect of plumbing provides an extra layer of protection for homeowners.
Plumbers are habitually used to wearing masks and personal protective equipment, making COVID-19 safety protocols easy to maintain. Plus, with the extra safety precautions laid out by the CDC, your family's safety shouldn't be a massive concern with the extra precautions we take.
How Plumbers Are Maintaining a CDC-Compliant, No-Contact Solution
As a Bay Area plumbing company and residents ourselves we are aware of the concerns that many homeowners have about the spread of COVID-19—especially as plumbers move from home to home and customer to customer. That's why we are implementing the following guidelines to keep their clients' minds at ease.
Social Distancing
In adherence with the CDC and World Health Organization (WHO), plumbers maintain a strict six-foot gap between themselves and customers. By doing so, the incidence of spreading COVID-19 becomes lessened dramatically.
Personal Protective Equipment (PPE) Including Masks
Prior to the COVID-19 pandemic, plumbers were already wearing PPE. Now, plumbers wear this same equipment with extra precautionary measures. According to the Occupational Safety and Health Administration (OSHA), plumbers should wear face masks, gloves, eyewear, and other safety equipment. In addition, OSHA also recommends a full-face shield to further protect the plumber and customers from COVID-19 infection when necessary.
Sanitizing Techniques
Because plumbers have to work with dirty water on occasion and are in contact with a variety of surfaces, they must practice strong sanitizing techniques. To exacerbate the issue, the CDC recently said that COVID-19 can live for differing periods of time depending on the surface, including materials that plumbers often use:
Copper – four hours
Cardboard – 24 hours
Plastic – two to three days
Stainless steel – two to three days
Because of the resiliency of the virus, plumbers are taking precautions to sanitize every surface they work with, and encouraging our clients to do the same.
Contactless Payment Options
When the project is finally completed, plumbers are using contactless payment options to keep customers clear of any potential infections. Credit cards are the preferred option over cash to minimize the chance of COVID-19 infection.
Proper plumbing is a necessity in any household, especially as the pandemic has caused many families to stay at home. By following social distancing protocols and wearing personal protective equipment, the chance for COVID-19 to spread is essentially nonexistent.
So, if you have a leaky faucet or a major plumbing problem, give the professionals a call. Not only will you enjoy a well-functioning plumbing system, but the extra flushes and water usage won't add any more stress to your life.
As a Bay Area plumber, we have been serving our customers for multiple decades, our employees, family and friends all reside in this area, we all must do our part to support each other and avoid the spread by following proper protocols.
If you need us, we are here for you and you'll be in good hands.  Contact us to discuss your upcoming project or plumbing repair in the Bay Area.