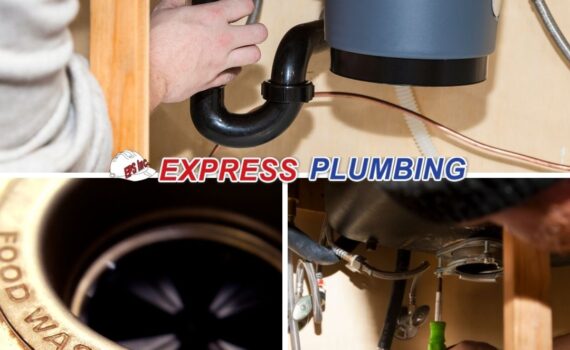 You've probably been there before. You put some end-pieces of food down the garbage disposal, turn on the water, and flick the switch. Quickly the sink fills up with water, and even the grinding of the disposal does nothing. You have the dreaded clogged garbage disposal. But as frustrating as it is, don't stress. By learning what causes a backup and following a few tips, you can get your garbage disposal up and running in no time at all.
Why is my garbage disposal backing up?
Our San Mateo plumbers serving the Bay Area have reported that several culprits can cause clogged garbage disposal, but the most common reason is improper usage. Many people throw all types of food in the sink that shouldn't go in there. Furthermore, if you're not using enough water when you use the garbage disposal, the system can't flush the food particles down through the trap and pipes.
One of the less common reasons that you should consider if you're using enough water and only flushing the right types of food down the drain is the condition of the blades. Over time, food can dull the blades of the system, and they're no longer sharp enough to cut the food into small enough pieces.
Furthermore, a unit that's 15 years old or more may be at the end of its useful life.  If you end up with a clog, give our experienced technicians a call.  As your local Bay Area plumber, we're here to make sure drains flow properly so you don't have to worry about it.
How to drain a clogged garbage disposal?
The good news is that you have several options to drain a clogged garbage disposal. Before getting into these, it's important to note that you should avoid drain cleaners. While these may work, they're not environmentally friendly and should only be used as a last resort.;
One of the most efficient ways to clear a clogged garbage disposal is to use a plunger. You can use a toilet plunger, but for sanitary reasons, you may want to consider a sink plunger, which is also a bit smaller and makes it easy to plunge away.
Another option is to use an environmentally-friendly mix of baking soda and white vinegar. Pour one part of baking soda down the drain followed by two parts white vinegar. This will cause a fizzy chemical reaction that can break down food in the line. Flush it clear with water after about 20 minutes.
As a last resort, you may have to give us a call to amend the problem. Don't go under the sink and start taking apart pipes or the garbage disposal unless you're confident in your abilities. Otherwise, you might make the problem worse or your sink inoperable.
How to avoid a clogged garbage disposal?
If you want to avoid a clogged garbage disposal, don't put any of these foods down the drain:
Eggshells
Coffee grounds
Fruit pits
Pasta
Grease and oil
Celery
Bones
Each of these items can clog or even break the garbage disposal. If you have quite a bit of acceptable food, make sure to put it down the drain in small batches to avoid overworking the unit. You should also keep the water running while you're grinding up food to flush it down the drain and through the pipes.
Finally, you should conduct proper maintenance on all your drains and plumbing throughout the house. Throw ice in the drain once a week to sharpen the blades, as well as a lemon, which can help break down certain foods and provide a better odor.
A clogged garbage disposal is a nuisance, but with preventive ideas and maintenance, you can steer clear of the problem altogether.
These tips and more are available from our experienced crew of plumbers in the Bay Area.  We've been serving our community for multiple decades and operate 24 hours if you ever need us.  We look forward to serving your home or business.