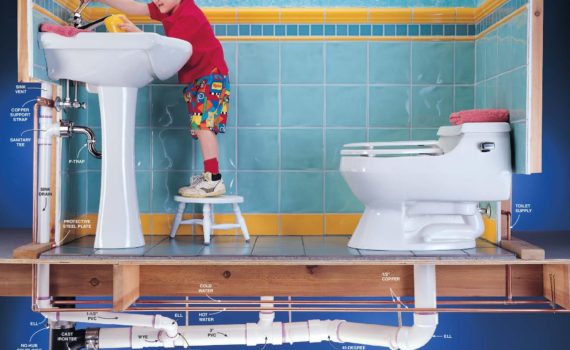 As a trusted plumbing company, we regularly get asked plumbing related questions, whether our plumbers get asked on-site or we get answer requests on the web. We've compiled a quick list we hope you'll find beneficial.
TOP RESIDENTIAL PLUMBING QUESTIONS
My toilet keeps running long after flushing, how can I quickly stop that?
A running toilet, can waste a lot of water, it can also be quite annoying to hear the sound non-stop.
The reason your toilet keeps running is the rubber flap in the back of the tank. Take the top off the back of the tank, flush the toilet and watch the flap. Does it close the opening all the way? If not, re position the flap directly over the hole, and that should stop it.
Our hot water runs out quickly, I haven't called a plumber because we get hot water, it just doesn't last, what can I do?
Answering this question will depend on the type of water heater you have. Type and size of the water heater will have an effect on the amount of hot water produced.
If you have an electric water heater, one of the heating elements could've stopped working. There are two elements that heat up the water, one is on top and the other is on the bottom, thus reducing the amount of water available.
The size of the water heater and capacity will also make a difference, usage, etc. Did your family size recently increase? Are you running appliances you never ran before or more often?
Our experienced Bay Area plumbers will look at various situations, and test to determine the reason for the problem. Our estimates are complimentary, for a more detailed diagnosis, it's best to call a plumber on-site.
You may also want to consider a tankless on-demand hot water heater. There is no tank, and the water is heated as its being requested throughout the house, so you never run out of hot water.
I have an ongoing issue with a clogged drain, it's happening more frequently, can you tell me what could be causing this and if it's safe to use chemical drain cleaners often?
Drains get clogged for multiple reasons, in the kitchen for example, if you're not careful with what you put down the drain, the buildup can cause it to clog. In the bathrooms, hair, soap scum, oil residue, etc.. can also cause continuous clogs.
If the problem is persistent, you could have issues with other areas in the pipes such as tree roots, or a clog further down the drain. A video camera inspection should reveal the exact location and allow our plumbers to eliminate the problem for good.
As to whether it's a good idea to continuously use chemical drain cleaners. We prefer preventative measures such as drain covers that minimize what goes down the drain, rather than harsh chemicals.
Drain cleaners are toxic, it's not a good idea to keep them around the house with pets and children around. You may want to check into drain protection covers or bacteria and enzyme solutions available on the market, safer for the environment and safer on the pipes.
For serious clogged drains, contact our Bay Area Plumbers to clear the lines quickly.
We hope you found some of these topics helpful and something you can benefit from at your home.
If you have plumbing, and home improvement questions you'd like answers to, feel free to contact us, we'll have our experts give you their professional advice and share it on our site with other homeowners.
If you need a reliable plumbing company in the Bay Area, we've been providing services since 1991 to commercial and residential clients. Our plumbing estimates are complimentary, and we take price in providing the highest quality plumbing service, guaranteed.