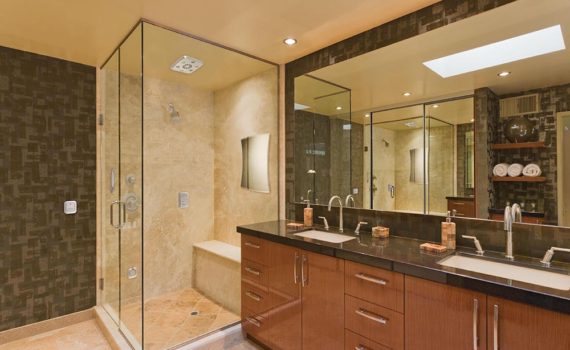 Refitting the plumbing in your home can definitely pay off in the long term – in addition to higher property value and energy-efficiency savings, you'll gain security against leakages and other plumbing emergencies. Water is the single most common cause of damage to the home – and the number one cause of water damage is leaky plumbing!  
But what's the financial outlay of redoing your plumbing? In this post, we'll take a look at how much you can expect to spend.  
Square Footage Matters
It can be hard to get a general estimate of plumbing costs since there are so many variables – the age of the home, the age of the plumbing system, the date of the last repair or remodel, and local building codes are just a few. A total bathroom remodel can cost between $2,000 and $15,000. According to Home Advisor's national survey for 2016, most members spent between $5,666 and $13,011.  
The cost for remodeling a 1-bedroom, 2-bath home can range as low as $1,500 and as high as $12,000; the cost for a 2-bedroom, 3-bath home can range as low as $3,000 or as high as $20,000.  However, the national average is approximately $4.50 per square foot of property, and hourly rates are typically between $50.00 and $75.00.  Use these numbers as a rubric.
Pick and Choose
If you can't afford a comprehensive refit of all your plumbing, you can opt for a limited set of repairs and replacements now, and save others for later.  For example, a homeowner with a 1-bedroom, 2-bath home might choose to replace the pipes, the shower in one bathroom along with both toilets and sinks, a total cost of less than $5,000.  A homeowner with a 2-bedroom, 3-bath layout might choose to focus on the master bathroom.
Limit Your Exposure
Exposed plumbing includes anything that can be seen and accessed without opening up floors or tearing down walls – for example, your toilet and shower system or the pipes that can be accessed via a crawlspace. Replacing exposed plumbing is much less costly, because the work is much less intense. These repairs typically cost between $1,000 and $6,000, with smaller houses on the lower end of that estimate.
Depending on the layout and age of your house, your plumber may be able to access most of your plumbing pipes this way. If you're planning to sell your home, this level of repair can be very valuable, since new fixtures will be attractive to prospective buyers. You might also want to highlight just one part of the house – for example, a homeowner with a 2-bedroom, 3-bathroom home might refit one bathroom for staging purposes and leave the others "as is."  
Kill Two Birds
When you remodel your home, take advantage of the temporary teardown by resolving any plumbing issues. After all, while your house is "under construction," much more of your plumbing will be exposed. Add-on costs for replacing plumbing pipes during a remodel can drop to as little as $250 to $1,000, so this two-for-one special is definitely worth a buy in!  
Shop Around
Some repairs can be much more costly – repairing a septic tank normally costs several thousand dollars, and replacing a water heater can cost more than a thousand. To keep these costs manageable, be sure to get several estimates from plumbers in your area – and don't be afraid to ask for a detailed breakdown. You may be able to save money by completing repairs yourself – but don't overextend yourself by taking on a project beyond your abilities.
Material Advantage
Professional plumbers can also advise you on the most cost-effective materials to use.  For example, crosslinked polyethylene tubing, or PEX, is a flexible plastic tubing that can be snaked into a wall just as easily as wire, for a much lower installation cost than conventional metal pipes. PEX is also much cheaper than copper pipes. Refitting a 2-bedroom, 3-bathroom home with copper piping normally starts at about $5,000 – PEX repiping for the same layout could cost as little as $3,500.  
Newer and less conventional materials can come with a lot of unknowns. There may not be much information available on how durable they are. However, these options are worth investigating.
Redoing your plumbing is a fairly costly, labor-intensive process, but these tips should help you minimize the expense. A professional plumber can help you find the best repair and replacement solutions for your home, and it might be worth investing in an expert consultation.
This guest post is contributed by Steam Showers Inc., a Southern California company with ten years of experience providing high-quality steam shower products via internet sales.
About the Author: Steam Showers Inc., is the largest distributor of steam showers in the United States. Based in Southern California, Steam Showers Inc., has a ten-year record of selling steam showers on the internet, specializing in steam showers, whirlpool bathtubs, shower panels, and walk-in bathtubs. We pride ourselves on supplying a superlative product at a competitive price.