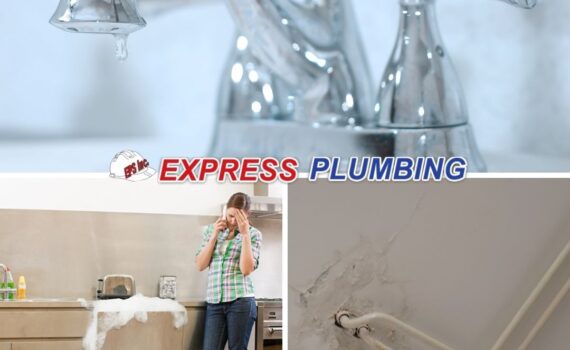 The easiest way for a homeowner's day to be ruined is waking up to the drip of a leaking faucet, or the backup of water in the shower or tub. However, you don't have to let these occurrences keep you from other obligations or activities. These five easy and quick plumbing hacks will allow you to remedy the problems and enjoy the rest of your day.
Homemade Drain Cleaner
Poor drainage is generally a small, but annoying indoor plumbing problem. This lack of water flow is usually caused by minerals, food, or hair buildup. If you have tried the usual baking soda or pot of hot water down the drain and came up empty-handed, a concentrated homemade drain cleaner is the quick and easy solution.
To create this homemade drain cleaner, start by pouring a pot of hot water down the drain. Then, add ½ a cup of vinegar and ½ a cup of baking soda into the drain. Let sit for 10 minutes. Follow up with two pots of boiling hot water to clear the drain. If the drain isn't cleared, give our team of Bay Area plumbers a call, we'll get your clogged drain flowing right quickly.
Increased Shower Water Pressure
Showers can be the most relaxing part of your day. It can be a time to unwind and de-stress before or after an event. But if your shower's water pressure isn't quite up to standard, a soothing experience becomes an annoyance. Fortunately, you have numerous ways to increase your shower's water pressure, even if you aren't a DIYer.
Three simple fixes could turn that shower into a high-pressure stream instead of a dribbling hose. The first is to dip your showerhead in a bowl filled up with vinegar and let it sit overnight. Afterward, clean the surface of the head with a toothbrush to break up any particles or debris.
The second option would be to check for kinks or knots within the hose if your shower uses a flex pipe instead of PVC or metal piping. If you have PVC or metal pipes, simply check to make sure all valves are opened. The third and final tip would be to flush the lines in your water heater to improve water pressure and flow.
Stop A Running Toilet
The constant drone of a running toilet is not only an annoying sound but a telltale sign that it needs a bit of TLC. However, you can easily resolve the issue in a few simple steps.
One way to stop a running toilet would be to check the required water height and examine the float. If the water levels are low in the toilet, it could cause the toilet to run continuously. Checking the float and the water levels could help alleviate this problem.
If the water levels are normal, you could have just a simple issue with your flapper. Check your flapper and see if the lack of suction is the reason your toilet will not flush properly or continues to run. If this seems to be the case, drain your tank, remove the flapper, and take it with you to the hardware store to find another flapper that fits your toilet. You can also order a one size fits all flapper online if that suits your needs.
Handy Options for the Novice Handyman
Even if you aren't the handiest homeowner, knowing a few quick, simple, and long-lasting fixes can make homeownership just a tad easier. With any luck, you can put these problems behind you and enjoy a functional plumbing system that makes cooking, cleaning, and bathing a cinch.
If you're a homeowner in the Bay Area, we're here to help you with all your plumbing issues.  From clogged drains to leaky faucets, repairs, and new installations.  Whether the issue is above or underground.  Give us a call for a plumbing quote.