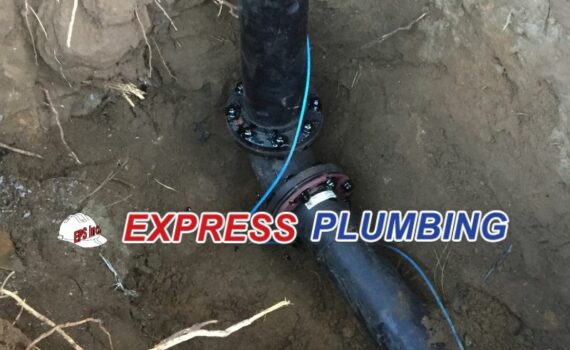 When it comes to plumbing, most of us are in the dark. We're often in the dark about what's lurking in our underground pipes.  Sure, we may be able to fix the occasional clogged toilet or leaky faucet, however sometimes the problem may be deeper set and requires a professional underground contractor.
Underground Pipes
Some plumbing problems may not be tucked away directly in our homes but may be hiding in underground piping. These pipes may run through our neighborhood, back or front yard and underneath our homes foundation.  Not an easy reach or a quick fix.
Many times these plumbing problems go undetected because it is hard to pinpoint the location of the issue until it is already too late, thus causing a stressful plumbing emergency. This can often lead to flooding or bursting pipes at the affected source.
Although these problems are hard to prevent, exceptional plumbing services such as video camera inspections offered by Express Plumbing help assure our clients that such problems are quickly detected and fixed.
Efficiency in Underground Pipe Inspections
Our professional technicians can take a look deep into underground pipes to see any blockage, cracks, collapsed pipes, root intrusions and more.  Underground pipe video camera inspections are efficient and designed to travel in any direction.
Express Plumbing is a division of Engineering Perfect Systems in the Bay Area.  Residential, commercial and municipal clients rely on our expertise and state-of-the-art, advanced equipment to get things done quickly.
In addition to pinpointing major problems, video camera inspections can be used on smaller jobs in our homes.
These useful cameras can help locate clogs and problems in our drains and even help rescue valuables such as the lost wedding ring down the drain, as recently reported by ABC 7 about a Kristen Kallis doing just that and was very happy to get her $10,000 diamond ring back.
This is great news for families with kids, as drains and toilets seem to be fun targets for tossing unwanted items.
If you suspect that something is lurking in your underground pipes, give our team a call, we'll be glad to take a closer look using advanced equipment and expertise that will save you time and money.