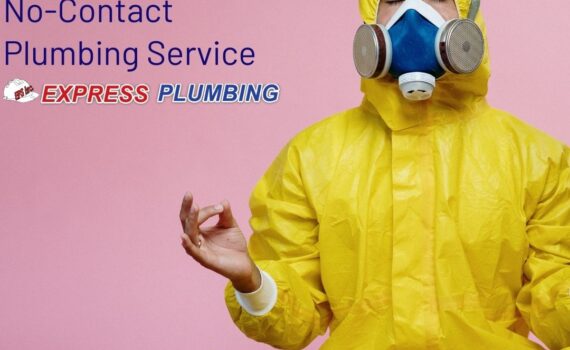 Critical to the infrastructure of businesses and residences, our Bay Area plumbers are still essential workers during the COVID-19 pandemic. Yet many homeowners may justifiably feel uneasy about individuals in their home for an extended period of time. However, the Centers for Disease Control (CDC) has revealed COVID-compliant guidelines to protect both plumbers and homeowners from exposure.
By following these protocols, no-contact plumbing has become the new normal for our San Mateo plumbing crew, allowing us to make repairs and conduct routine maintenance. Paired with our own safety guidelines, homeowners should feel at ease. Here's a glance at how we are practicing no-contact plumbing during COVID-19.
What Is No-Contact Plumbing?
In general, no-contact plumbing is a set of guidelines in the COVID-19 era that help maintain safety between homeowners and plumbers. Both the CDC and the Occupational Safety and Health Administration (OSHA) have presented methods to limit exposure to the virus. Some of the basic ideas of these no-contact plumbing protocols include:
Asking questions as to whether the maintenance is absolutely necessary to help limit contact between individuals
Social distancing and mask-wearing
Personal protective equipment worn
Scheduling to prevent contact between individuals
By adhering to these guidelines, our customers and employees have far less risk of exposure to COVID-19, as well as reduced fear or anxiety.
Personal Protective Equipment
Due to sanitary reasons, and company guidelines our crew is already equipped with personal protective equipment (PPE) prior to the COVID-19 pandemic. However, we now take extra precautions. Our plumbers wear masks, eyewear, gloves, and any other PPE deemed necessary for the job. In addition, we may also include a face shield to further reduce the risk of spreading or exposure to COVID-19 where it is deemed necessary.
Scheduling
Another method of reducing exposure to COVID-19 is through various scheduling methods. In the COVID-19 era, we strategically schedule each appointment to minimize contact and offer scheduling appointments via the internet or phone to reduce contact between individuals.
If the repairs are outdoors, we make arrangements with the homeowners to schedule the service even if they're at work.
No-Contact Plumbing Service Payment Options
While cash is king in the business world, the CDC and OSHA, now prefer no-contact payment options after service. COVID-19 can survive on paper products for 24 hours and plastic for two to three days. As a result, cash and credits cards aren't the preferred method of payment. Instead, homeowners can now pay through various mobile payment options.  Ask us about all the no-contact payment options we have to put your mind at ease.
Fully functional plumbing is a necessity in any household. Ignoring a problem until it's too late can not only cause potentially unsanitary conditions, but also cost you two or three times the amount of the original maintenance.
You shouldn't wait to call us as your local plumbing company when necessary.  In the wake of Covid-19, our interactions may have changed when we come to provide you with a plumbing service, but by following proper no-contact plumbing guidelines, both parties can maintain safe distances without fear of exposure to the virus. That's a win-win for both sides.
Consider us your trusted San Mateo experienced plumber.  We look forward to providing you with a safe no-contact plumbing appointment when you need one.