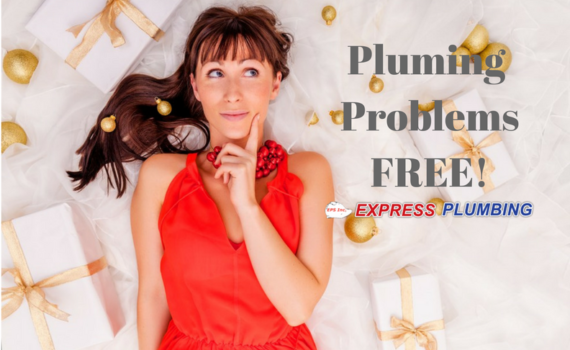 You're right, plumbing problems aren't specific to geographic locations, but we can only speak about our plumbing emergency experiences in the San Francisco Bay Area.
This time of year, everyone is in a festive mood as they should be, but there's nothing worse than a plumbing disaster striking right in the midst of a holiday event, but our plumbing crew will tell you it happens all the time.
As a Bay Area plumber since 1989, we've been called night and day to deal with plumbing emergencies for businesses, homeowners, even municipality plumbing issues , the number of residential plumbing problem calls always increase around the holidays, why?  The plumbing does take a large beating with the above average use during this season.  Here are the most common residential plumbing problem calls we've received.
Common Plumbing Problems and Prevention
Garbage Disposal Stops Working
With so many tasty dinners around the holidays, of course their are many broken garbage disposals. There are however a few things you can do to prevent this from happening or at least delay it so you can remain in a festive mood.  Your garbage disposal is not a dumpster.  Keep things out of it, it's that simple.
Sure, many will tell you to cut things into smaller pieces, or to only put certain types of foods down the garbage disposal.  As your trusted Bay Area plumber, we say to avoid it all together around the holidays because we want you to enjoy the holiday season free from any unexpected plumbing issues.
Broken Water Heaters
We get called for this all the time, and it's always fun when the water heater is not broken at all, the igniter goes off and no more hot water.  This is usually a quick fix and we all get back to our holiday festive moods.
One year a San Francisco resident was so excited after finding out her water heater was not broken at all, it had just shut off, she had our tech Joe stay for dinner and celebrate Christmas eve with her family.  It's moments like these that we enjoy and help us love what we do even more.
We serve our community with dedication and a rapid response 24 hour a day, 7 days a week including the weekends and holidays.  We do it with a smile.  If you have a plumbing problem in San Francisco, call us and you'll get a live person whenever you call.
Here are a few things you can do if you have a traditional water heater when you're expecting a few overnight holiday guests.
Turn up the temperature, but never go over 120 degrees, it can be dangerous, this will help you stretch your hot water and insure everyone gets a nice comfy shower.  Remember to turn it down right after they're gone so you don't waste too much and save energy.
If you have an on-demand water heater (tankless water heater), you don't have to worry about hot water at all.  When you want it, it's there.
Last but not least, we hate to talk about a pesky, stinky plumbing matter, but we simply can't avoid it because it's one of the most common plumbing problems during the holidays.
Clogged Toilets or Sewer
With so many guests in and out of the bathroom, that's bound to happen.  Not to mention, after a few drinks, who knows what's being flushed down the toilet.  If you don't normally keep a waste basket close, get one!
Remind your guests not to flush sanitary napkins, baby wipes, facial tissues, etc.
We're always available to help including holidays and weekends, but it's not a bad idea to keep a plumber near just in case.  Leak detection, Sewer repair or replacement is our specialty.
These are just a few of the calls we've received in the past, we hope these tips will help you and from our entire plumbing and engineering team at EPS Express Plumbing, we wish you and your family a festive, holiday season filled with love, laughter and free of plumbing problems.
Rapid Response:
The Holidays seasons is one of our busiest months, we serve the entire Bay Area, but call us when you need a trusted, fast response:
TRUSTED IN THE BAY AREA SINCE 1989