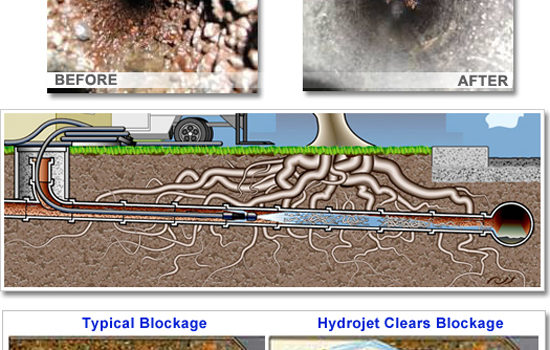 Slow sewage lines or clogged drains? Hydro jetting commonly referred to as high pressure jetting is used by our San Francisco professional plumbers to quickly remove the blockage and build up.  It's effective and efficient.
About the Hydro Jetting Process
We begin by determining the location of the problem first using a video camera inspection, this will quickly pinpoint the location.  A combination of a snake and Hydro jetting may be used if tree roots are involved in the blockage.
The snake will break up the particles in the blockage, while the high-pressure water jetting clears the drains completely and removed any remaining particles on the interior walls of the pipes.
Average Prices of Hydro Jetting Plumbing Services in the San Francisco Area courtesy of HomeAdvisor.
High Pressure Drain Cleaning Vs Snake
Hydro jetting is very common with commercial plumbing projects, especially restaurants.
In a residential home, the process works great for removing sand, silt, and build up in clogs such as hair and other grease and food particles.
Using a snake to unclog a drain only breaks up the particles and leaves the buildup on the interior walls.  The high-pressure process of hydrojetting can completely clean the pipes which a snake cannot compare to.
Benefits of Hydro Jetting to Clear Drains
Time is money.  The quicker a project a completed, the less costly it is.  The high pressure drain clean process is environmentally friendly and avoids the use of chemicals to clear the drains.
The hydro jetting machine can release high pressure of 7000 lbs per square inch to clean your clogged drains or sewer lines quickly and without and problems.
Our expert Bay Area plumbing technicians provide drain cleaning services in the San Francisco area to both commercial and residential clients.
We're equipped and experienced to handle your plumbing needs no matter how big or small.  Rely on our experience to help you the next time you need a hydro jetting contractor in the Bay Area.