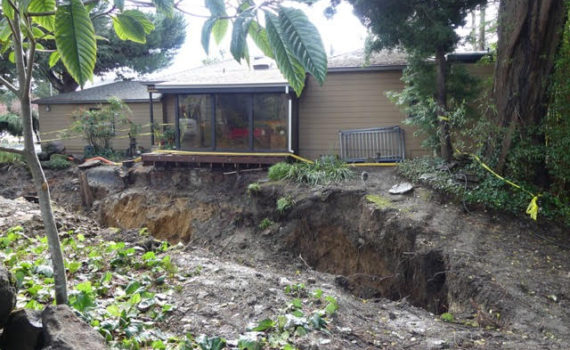 Douglas Irvin, a 74-year-old retired Bay Area resident and no stranger to engineering, he retired after 32 years in engineering with the department of defense.
He said in an interview earlier this week.  "Nick Bechwati saved my home and I am grateful.  Nick did everything he could to save money and discussed what he planned to do each step of the way.  He treated me like the professional engineer I am".
Douglas Irvin has owned a rental property in the San Mateo area for over a decade, all was great until he received a call from his tenant one morning in February 2017 letting him know that a huge sinkhole ripped apart the yard, drained the koi pond and has threatened the home.  Irvin was left with a big problem and a project ahead he wasn't expecting.
"I had to act fast, I was worried about another rain storm coming and the house collapsing" he said as he recalled the story to me earlier this week.
As the San Mateo Daily Journal reported in February and Irvin recalled during our conversation, he was left with a lot of unanswered questions.
Where is the water coming from? Was there a pipe that failed? Who is responsible for the uphill storm water?  With all these questions, he knew he had to act fast and possibly get the answers later.  He didn't want to lose his home, and wanted the right heavy construction company for the job.
"There's a 48" storm drain pipe that ran right through my property, never saw it on the map, I always thought it ran around the property". Said Irvin
His home was in danger of collapsing, and the entire seen was a complete disaster, marked off by bright yellow caution tape by local authorities.
What lead you to Nick Bechwati, owner of EPS Inc. in the Bay Area?
"I'm not a stranger to engineering, after 32 years I still had a lot of contacts and started asking around for the best Bay Area heavy construction company.  Everyone kept pointing the finger to Nick Bechwati as the most experienced, and best equipped to handle this project, so I gave him a call"
How did your first meeting go with Nick?
"When nick walked up to meet with me, he was holding and leaning on a cane, I also have trouble getting around at my age, so we immediately had something in common." He said as he chuckled.
Nick Bechwati was still recovering from leg surgery due to an accident that happened earlier this year, he never missed a day of work after his surgery, he is a dedicated hands-on owner that has been serving the Bay Area since 1989 providing advanced drilling, heavy construction, and plumbing services for residential, commercial and municipal clients throughout Northern California.
"They say I'm a workaholic but I don't see it that way.  If you love and enjoy what you do, is it considered work?" Said Nick Bechwati, owner of EPS Inc. dba Express Plumbing.
His dedication must've been apparent to Mr. Irvin during their first encounter.  Irvin continued, "After 32 years of experience in engineering, and dealing with so many people in the industry, I'd like to think I'm a pretty good judge of character.  I didn't hesitate, after a small conversation with Nick, I agreed with everything he said, I liked his ideas, and action plan, I could tell he was the one I'm trusting my home to, and signed a contract to start right away."
Were you around your San Mateo rental home during the heavy construction project?
"I'm retired, so I had all the time in the world to hang around the project, I knew what I was looking at and I saw Nick on the job, I documented, took photographs and observed him making some tough decisions, it wasn't easy, but he had a solution I agreed with every time".
"This wasn't your everyday situation, they had to go 25 feet below the pipe and clear all the debris, it needed the right person for the job, someone that can act fast, with no room for error, being an engineer myself, I would've done exactly what Nick did in many situations".
The project was quite involved, it required someone with experience to deal with the permits, and City licensing requirements, etc… "Nick has been around for a while, his relationship and contacts with the local City helped ease the process". Irvin said with satisfaction.
Did you know EPS Inc. has an Express Plumbing division that handles every day plumbing issues?
"Well, this project didn't need a plumber that's for sure, but yes I am familiar with all the services his company provides.  I'll tell you, if I do need a plumber anywhere in the Bay Area they'll be the ones I call.
During our conversation, Douglas Irvin was a joy to speak with, he was very forthcoming and shared all he could about the project with a passion.  Very mild tempered when discussing a disaster that threatened his home, this can only come from his many years of experience in engineering.
EPS Inc. dba Express Plumbing is a full-service company specializing in engineering, heavy construction, drilling and plumbing.  Nick Bechwati has been serving the Bay Area since 1989 by providing the highest quality, guaranteed services to not only meet but exceed the clients' expectations.
The company provides its services to residents, business owners, Bay Area cities, along with 24-hour disaster response.
Anything else you'd like to add Mr. Irvin?
Nick Bechwati did save my home, I made the right choice when I picked EPS Inc. to handle this heavy construction project.  I still have many issues to deal with at the City, but for now, my home is saved and I couldn't be happier.