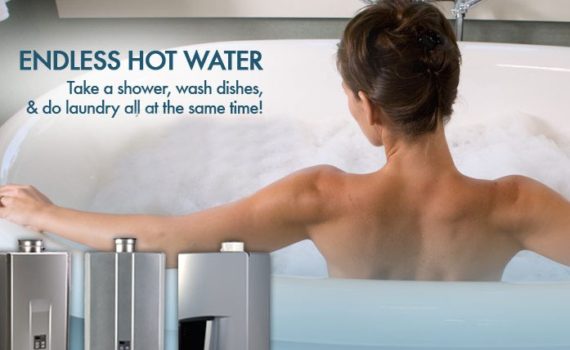 On demand water heaters, often referred to as tankless water heaters only produce hot water when you need it.   There is no water storage being heated therefore you save money, but how much money does a tankless water heater save?
How It Works
A tankless water heater has no tank, so no water is being heated when not in use.  When you turn the hot water faucet on in the house, cold water travels through the unit, gets heated and delivered to you.
Generally, the hot water is delivered at a rate of 2-5 gallons per minute.
Electric or Gas Tankless Water Heater?
Gas operated tankless water heaters produce a higher flow rate of hot water than the electric ones.
If you're in a large home, the gas fired tankless model can't supply hot water simultaneously for multiple users like the electric one does.
Operating Costs of Gas or Electric Water Heaters
Cost and Savings of an On-Demand Water Heater
The initial cost of purchase and installation is more than you would pay for a conventional water heater, but the savings and return on investment are much better.
Tankless water heaters have lower operating and energy cost
Life expectancy is more than 20 years when compared to 10 with traditional water heaters
Tankless Water Heater Client Review
When Chris and Joan started looking at switching their traditional water heater to a tankless one, they weren't really sure it's worth the time or investment.
We worked closely with them and provided all the details and statistics available relating to energy savings over time.  They made their decision and the San Mateo tankless water installation happened without a glitch.  Here's what they had to say:
If you're in a home that uses 40 gallons of hot water daily, you can expect 24% to 35% energy savings, if you use more hot water, the savings are even more and up to 50%.
A tankless water heater is energy efficient but that energy efficiency can be better optimized with proper installation and maintenance.
There are many factors to consider, therefore it's important to hire an experienced tankless water heater contractor that understands the various fuel types, local climate, building code regulations, safety issues when dealing with gas operated water heaters.
Express Plumbing in San Mateo CA has over 25 years of experience in new installations, maintenance, and plumbing repairs.  We've worked with apartment complexes, residential homes, commercial businesses, and municipalities throughout the Bay Area.
If you're ready to learn more about on-demand hot water heaters and want to get a no obligation, complimentary estimate, give us a call or request a quote.
We've been serving the Bay Area since 1989, we take pride in providing excellent service throughout the area.  We would love to help you save money and get your home energy efficient with a tankless water heater installation.
Complimentary Tankless Water Heater Estimate
[contact-form to='[email protected]' subject='Tankless Water Heater Quote Needed'][contact-field label='Name' type='name' required='1'/][contact-field label='Phone' type='text' required='1'/][contact-field label='Email' type='email' required='1'/][contact-field label='Project Location' type='text'/][contact-field label='Comment' type='textarea' required='1'/][/contact-form]