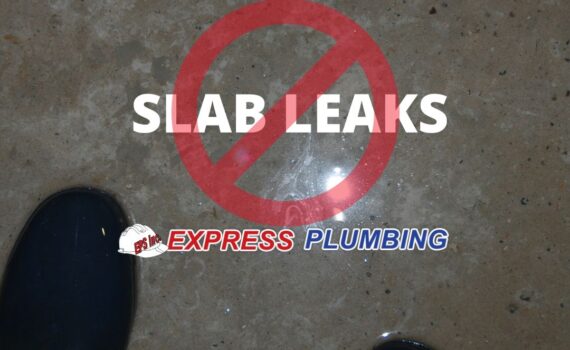 COVID-19 is wreaking havoc on your plumbing. The excess strain put on plumbing systems due to stay-at-home orders and self-quarantine has left water lines and fixtures handling the extra workload. One such problem is a slab leak. These leaks can cause catastrophic damage if not fixed properly, and require the expertise of a skilled plumber. If you think you may have a slab leak, here are the steps you should take to minimize a disaster.
What Is a Slab Leak?
A slab leak is a leak that forms in the water lines underneath the concrete foundation of your home. Because of their location, they are often difficult to detect. However, slab leaks can do catastrophic damage to your home. If left untreated, slab leaks can damage the concrete foundation, erode the soil, and waste thousands of gallons of water. In severe cases, slab leaks can even cause a portion of the home to collapse.
Causes of Slab Leaks
Slab leaks have numerous causes, making them more difficult for homeowners to prevent. Some of the most common sources of slab leaks include:
Corrosion caused by pipe contact with the soil. This is especially common in copper piping.
Abrasion as a result of pipes rubbing against gravel or rocks. As most foundations have backfill with rocks in them, the expansion and contraction of pipes due to weather can cause them to rub against rocks, pebbles, and gravel.
Shifting of the foundation can move the pipes underneath your home, which can cause them to burst and form a slab leak.
Poor installation is another factor in many slab leaks.
How to Identify a Slab Leak
One of the major problems with slab leaks is that they're hard to find. However, homeowners may realize slab leaks with more regularity due to stay-at-home orders and time spent inside. If you're not sure if you have a slab leak, look for these signs and symptoms:
Low water pressure.
Warm or damp floors.
Sounds of running water when the water is off.
Water meter moving when all water is off.
Standing water around the perimeter of your house or in the basement.
Issues with mold.
How to Fix Slab Leaks
While some of these signs may be the result of a different issue, the only way to assess the problem is by hiring a plumbing expert. With their experience and expertise, these professionals can locate the problem and offer suggestions on how to move forward. In most instances, jackhammering the floor and replacing the pipes or rerouting the pipes are the most viable and cost-effective options.
Plumbing isn't something that most people are highly skilled in. That's why, especially during COVID-19, our Bay Area plumbers are in high demand, especially if you have a slab leak.
If you think you may have a slab leak, do everything you can to keep our plumbers safe. Wipe down all surfaces and try to maintain social distancing rules.  Our plumbers continue to provide essential plumbing services in the Bay Area to our commercial, residential, and municipal customers while following all recommended CDC guidelines.