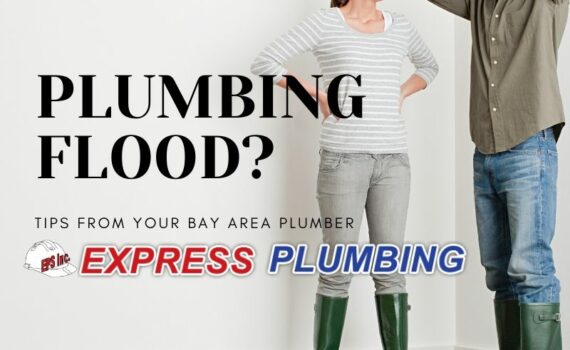 A plumbing flood is avoidable with proper maintenance, but when a pipe bursts in your home, chaos unfolds.
Not only is your furniture at risk of severe damage, but your floors can suffer as well. The porous nature of subflooring, carpet, and wood can retain water for days and even weeks after the leak.
Therefore, you need to be diligent when it comes to cleanup. Before the problem calls for a total flooring replacement, follow these tips to save your floor — and your investment — before it's too late.
As a Bay Area Plumbing and Engineering Contractor, we want you to avoid plumbing problems all together, but if you can't, use these tips to help you properly dry the area.
Before You Begin
Before you start to cleanup, photo-document the affected area. Armed with these photos, you have evidence of the flood to give to your insurance company. If you have any cloth furniture that's salvageable, remove it from the room and set it outside to dry. The power of the sun will take care of most of the moisture. When it's overcast or cold outside, set the furniture near a heat source.
Soak Up Excess Water Immediately
Use a squeegee or a wet/dry vacuum depending on the location and severity of the problem. You can easily find these tools for sale or rent at a local hardware store.
Once you have the right tool for the job, remove as much water as possible. Speed is crucial. If you can remove a majority of the water within 24 hours, you lessen the chance of irreparable damage. The longer you wait to rid your home of water, the more chance moisture has to seep into hardwood flooring or carpet, necessitating a full replacement.
Use a Fan
The next step to dry your flooring is to use a high-powered fan. A household floor or desk fan usually isn't strong enough to get the job done, so you may have to purchase or rent a fan with enough power to remove excessive moisture.
If you have wooden furniture such as a dresser or armoire in the room, remove the drawers and open any doors to ensure you remove the moisture from these areas as well.  In addition, this fan will help circulate fresh air, which can also lessen the musty, mildew smell caused by flooding.
Unleash the Power of a Dehumidifier
Even with a thorough vacuuming and a fan, your room will undoubtedly still have moisture hiding somewhere. To remove this final bit of water, rent or buy a portable dehumidifier.
These dehumidifiers remove water vapor from the air that you otherwise couldn't eliminate. Remember to empty the water drawer frequently to make sure you don't have another water spill on your hands.
Disinfect All Affected Areas
When a pipe bursts, there's a chance that the water has come in contact with sewage or bacteria. Because of the health risks posed by bacteria and subsequent mold, you should disinfect and sanitize any area touched by the water.
This includes not only the floor itself, but also baseboards, walls, and furniture. In more severe cases, consider hiring a professional.
Any time a pipe bursts in your home, it's a catastrophic situation that requires due diligence. So push the stress aside and get to work drying your floors. The value of your home and your pocketbook depend on it.
Our professional plumbers are standing by to answer any questions you have relating to plumbing.  We service the entire San Francisco Bay Area and are relied upon by residents, commercial clients and municipalities due to our experience, advanced equipment and techniques.