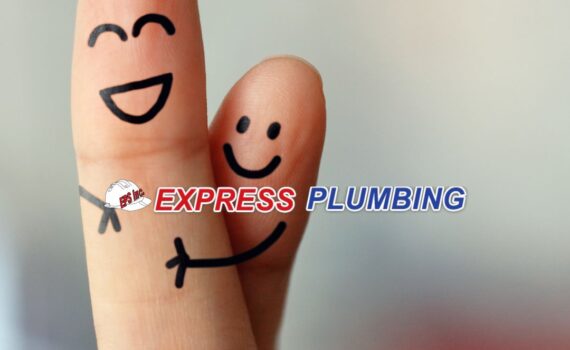 On April 25 every year, the U.S. celebrates Hug a Plumber Day. Initially started in 2009, the holiday aims to celebrate the skills and accomplishments of all plumbers, and how they make life and comfort just a bit nicer for everyone.
Even if you don't know a particular plumber or have a plumber in your life, you can still appreciate everything that plumbers do for you — from fixing your toilets to preventing a catastrophic leak. Here's how to do it.
1. Give a Reference
If you're satisfied by the service, friendliness, timeliness, or any other aspect of a plumber's visit to your home, show them a little love by providing them as a reference to friends, family, and acquaintances.  At Express Plumbing we've been serving our community for multiple decades and our plumbers love references.
Like other types of home service professionals such as electricians, HVAC repairmen, and others, finding a good one is easier said than done.  We strive to make sure each customer is happy with the plumbing services we provide them and appreciate our customer's thumbs up and kind words offline and online.
2. Be Preventative with Plumbing Maintenance
A plumbing preventive maintenance plan is one of the best investments you can make as a homeowner. Plus, you can celebrate Hug a Plumber Day by having your trusted plumber come out and take care of any issues before they become problematic.
Getting a preventive maintenance plan for your plumbing provides you with:
Opportunities to ask your favorite plumber for expert advice.
Priority service during an emergency although we're always available 24/7
The constant peace of mind
Improved plumbing performance
Avoidance of catastrophic leaks or damage
Extended life of plumbing fixtures, such as toilets or water heaters
Although preventive maintenance requires you to pay a small upfront fee, it's still far cheaper than paying for on-demand service as problems arise.
3. Create a Positive Review
Giving a friend a plumber reference is definitely a great way to celebrate Hug a Plumber Day, but in the digital age, giving them positive online reviews is almost nearly as effective.
Whether you're on Yelp, Google, Angi, TrustPilot, the Better Business Bureau, or some other website, showering your preferred plumber with accolades for the fairness of their prices, exemplary service, and timeliness can help them get more business in the future. It's definitely a nice gesture that we or any plumber would appreciate.
Don't Have a Plumber To Hug? Find One!
If you don't have a plumber to hug this April, now's the time to find one. A great plumber is priceless — saving you tons of money from potential water damage or sewage backups.
We invite to look at our reputable Bay Area Plumbing Company.  We've been serving the area since 1989 and take pride in the work we do.  Rely on us for all your residential, commercial, or municipal plumbing services anywhere in the Bay Area.