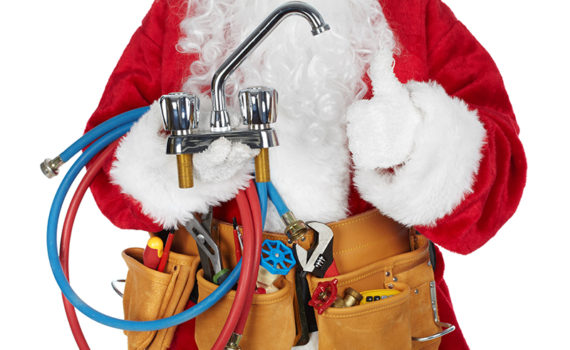 Tis the season to spend your Christmas eve with a plumber, Not!
It's time to eat lots of goodies, be Merry and avoid the the plumber with these helpful Christmas plumbing tips from Express Plumbing, the Bay Area's favorite contractor in San Mateo CA.
Our crew is experienced, nice, and friendly, but if you don't want to have us in your home on Christmas eve or day, consider following some simple rules.
Christmas Plumbing Tip #1
Allow your drains to drain by suggesting that your in-house guests wait 15 minutes between showers.
This will give the drains the time to do their thing.  You may also want to place small screen covers over the shower drains to catch all the added hair trying to make its way down the pipes.
Holiday Plumbing Tip #2
With more people in the house, sanitary items, wipes (including the flushable ones), etc.. tend to find their way down the toilet more often.  
It's not something you can easily announce to your guests, so make a festive friendly sign and put it above the toilet as a quick reminder.
Plumbing Tip #3
Baking and cooking requires the use of butter, flour and oils.  Fat and oils become solid in pipes.  Avoid clogging your drains by wiping the pots and pans clean over a trash can before adding it to the sink.  
Follow these simple tips and carry on with your guests without having to worry about personalized time with your plumber.
If you already have plumbing issues, however small they may be, address them before the big day.  Minor plumbing problems can become plumbing disasters quickly if not fixed.
Our plumbing professionals are available 24/7 including holidays and weekends, we've been on Santa's good list since 1989.  

At the end of Nov. when we had trouble with the sewer line we were fortunate enough to have your company solve the problem. We just want to thank the men for the professional and excellent service that they provided us.
We really appreciate all that they did. We wish all a Merry Christmas and A Happy New Year.
Sugrue family
As much as we enjoy our clients and neighbors, the last thing we'd want is to put a damper on the most wonderful time of the year by showing up for a plumbing emergency.  
From our entire team, we wish you and your families a wonderful holiday season filled with health, happiness, and lots of cheer.